Resolutions and Campaign News
Resolutions and Campaign News
RESOLUTIONS 2021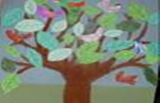 Protect Your Nature Space

Knowbury WI are leading the way. Why not join them?
Although their resolution did not win the national vote, they are still determined to make a difference.
The time to start is NOW.
Everyone can participate in nature protection and creation schemes. It is a whole community activity, everyone and anyone can become involved. As we are looking forward to coming out of lockdown, take a look around you.
What can you do?
Each month we will share activity ideas.
More information can be obtained from Jennifer Bishop: jenniferbishop162@btinternet.com, Annie Owen: annie.owen10@btinternet.com, your WI Secretary or download a leaflet here.
Activity Ideas by month
For April: feed the birds, plant some seeds, look after emerging bees by planting various pollinators, choose a small patch of your garden to leave uncultivated.
For May: collect rainwater to use in the garden, leave a patch of unmown grass for our pollinators, do a garden butterfly survey, plant native plant, share with your WI/local community, check out www.naturehood.uk for some ideas
Please visit this website for information and updates about local bus services.
They welcome to any suggestions you may have.